Broadcast Signal Analyzer Software and Hardware
A powerful system to assist you through any phase of radio network planning, realisation and maintenance, as well as in the quality assurance.
The complete system from a single partner.
In 2020, PrecisionWave and KATHREIN Broadcast have signed a cooperation agreement for the evolution of the KATHREIN Signal Analyzer (KSA). This cooperation enables a continuous evolution for the KSA product family with new digital broadcast standards.

Time has elapsed, PrecisionWave has now expanded their product portfolio and developed their own broadcast receiver (BR-VBI) supported by KSA.

Your well-known technical contacts for the KSA measuring system will remain the same, now provided by PrecisionWave.


Kathrein Signal Analyzer Software (KSA)
The measurement and investigation tool for analogue and digital broadcasting – Kathrein Signal Analyser (KSA) - is combining powerful analyzer functionality in software and all the advantages of Software-Defined Radio (SDR).

Advanced digital signal processing algorithms
Kathrein Signal Analyser strictly follows the concept of SDR. The input with high quality I/Q-data comes from a suitable test receiver. Demodulation, channel decoding and measurement of all relevant parameters, as well as generation of statistics and graphics, are performed by the KSA software. Advanced digital signal processing algorithms allow robust and precise measurements, both in stationary and mobile environments.
Optimized for mobile use
The concept of software-defined radio provides maximum flexibility and allows measurement of multiple technologies with one hardware setup. Together with the flexible post-processing software, user-friendly interface, and navigation functions implemented, Kathrein Signal Analyser is optimally suited for drive tests.
Measurement
The measurement system stores and decodes measured data of mobile, as well as stationary and long-term measurements. Powerful channel-scans give a fast overview over the band. Radiation pattern and height profile can be recorded. GPS and other external sensors to capture supplemental data are supported. Many other analysis features are included.
Export and review function
Various export and review functions are available for the different software modules, to visualize the measurement with all parameters individually, and to investigate parameters in detail after the measurement.
Software support service
PrecisionWave offers support contracts which may include software maintenance and updates, as well as operational support. One year of support is included when purchasing.
Broadcast Receiver (BR-VBI)
Truly optimized for broadcast signals - Unbeatable dynamic range and selectivity
BR-VBI is a digital broadcast receiver allowing measurements and supervision for your broadcast networks from 400 kHz up to 950 MHz. BR-VBI is natively supported by the Kathrein Signal Analyzer (KSA) software which is an ideal combination for spectrum and channel impulse response analysis, stationary and mobile service performance estimation, and many more use-cases.
Two selectable RF inputs optimized for 0.4-108 MHz and 0.4-950 MHz respectively
Optimized low-noise design to achieve best dynamic range for a wide signal power range
Automatic gain control and fast-attack overdrive prevention circuit
Ultra low phase noise clocking (130 fs typical)
High channel selectivity thanks to multi-stage analog bandpass filtering
Low power consumption ( 24 W max.)
Compact, rugged module ideally fitting for vehicular and remote applications where space matters
Actively cooled housing optimized for vehicular applications available as option
Gbit-Ethernet for direct I/Q sample streaming and configuration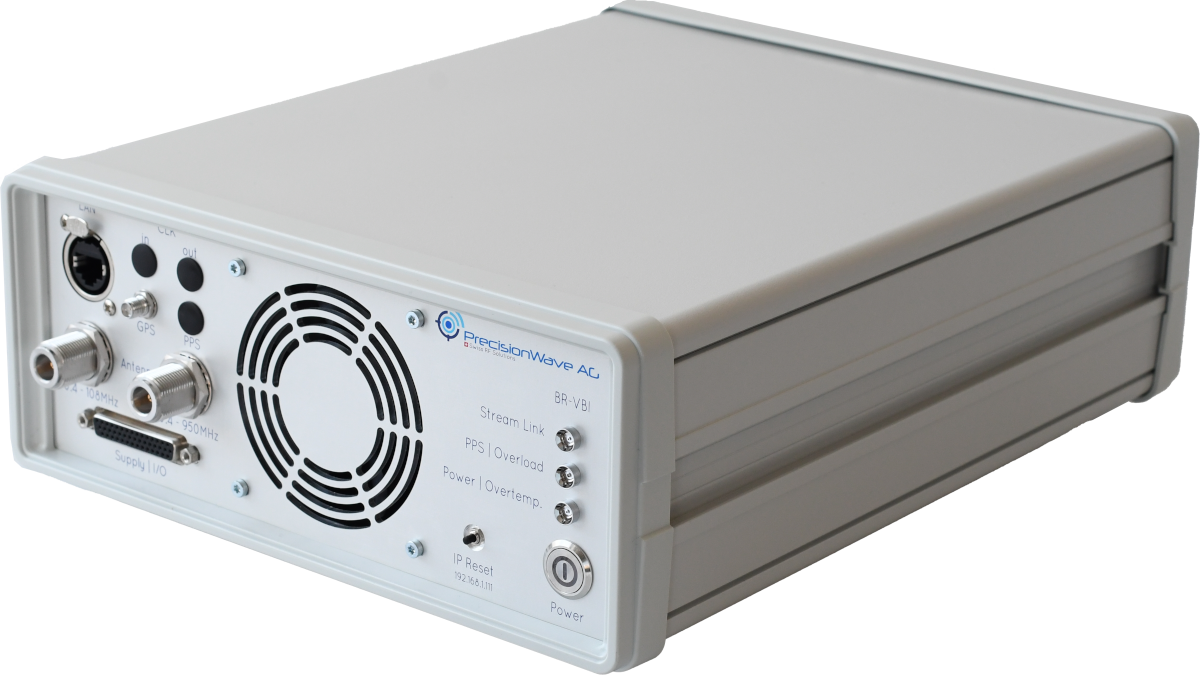 Do you prefer to use the BR-VBI as a tabletop unit or do you often carry it to other locations with increased temperature requirements?

We have developed the Halfrack option especially for vehicular use-cases.

Solid N-connectors offer a reasonable connection to vehicle antennas. The fan cools the device quietly and efficiently, even with increased temperature requirements.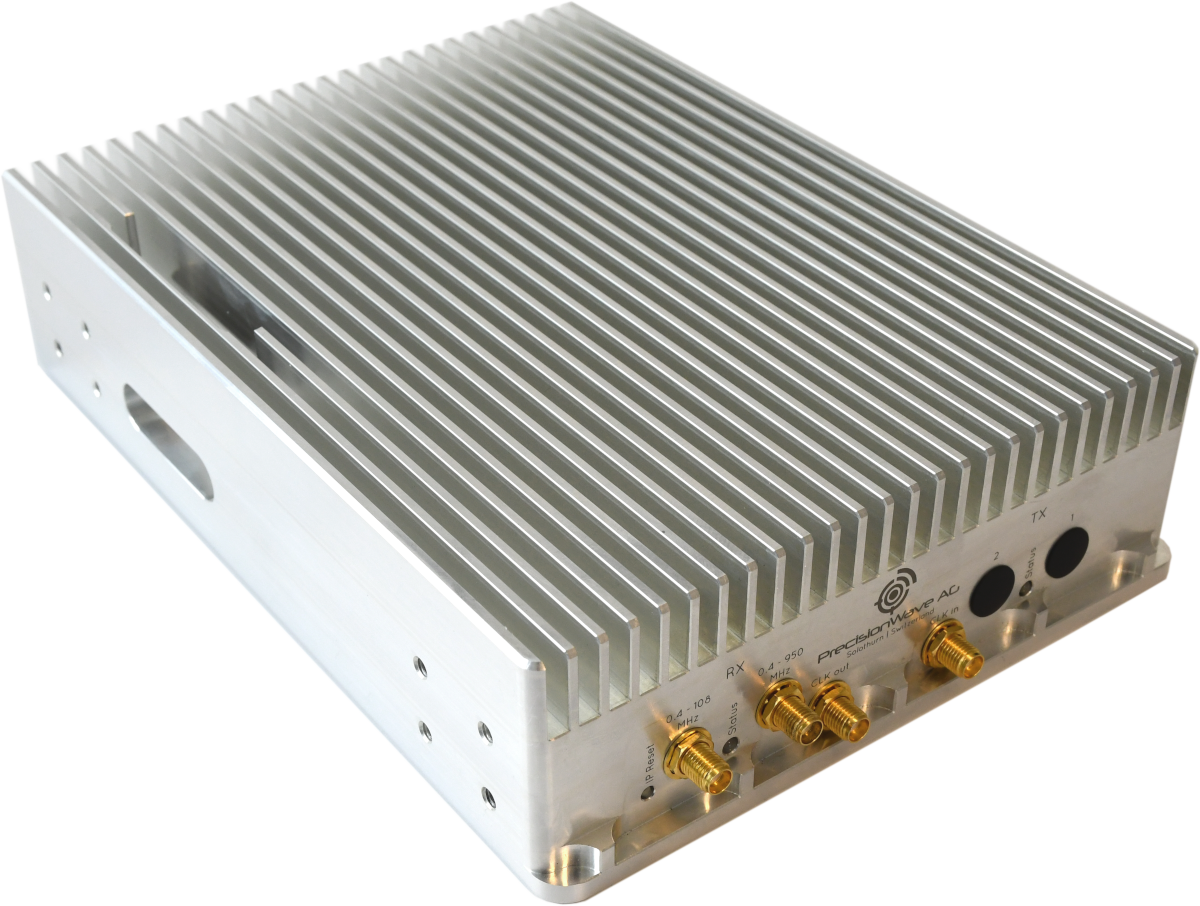 Do you want to install the instrument in an existing measuring system with limited space? No problem, the BR VBI is available as a compact, ruggedized modul e directly milled from a bare aluminum block.

We do not make any compromises in terms of stability or shielding against electromagnetic interference.

The directly milled heat sink is sufficient to cool the module passively for normal ambient temperatures up to 50 C.
Read all about our Kathrein Signal Analyzer (kindly approved by Kathrein Broadcast)
Read all about our Broadcast receiver (BR-VBI) solution
Introducing the Kathrein Signal Analyzer (kindly approved by Kathrein Broadcast)
between Kathrein Broadcast GmbH and PrecisionWave AG